Instead of pumpkin pie why not change it up and make some pumpkin bread?  Why not try this healthy flax quickbread from Allrecipes?  I bet this not only tastes delicious but also smells wonderful while baking. 
Pumpkin Flax Quickbread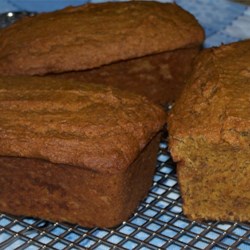 Prep time: 10 minutes
Cook time: 1 hr 10 minutes
Ingredients
2 tablespoons flax seed meal
6 tablespoons water
1 1/2 cups sugar
1 cup canned pumpkin puree
1/2 cup applesauce
1 1/3 cups all-purpose flour
1/3 cup whole wheat pastry flour
1 teaspoon baking soda
1 teaspoon ground cinnamon
3/4 teaspoon salt
1/2 teaspoon baking powder
1/2 teaspoon ground nutmeg
1/4 teaspoon ground cloves
Directions
Preheat oven to 350 degrees F (175 degrees C). Lightly grease one 9x5 inch loaf pan.
Whisk together flax seed meal and water. Mix in sugar, pumpkin and apple sauce.
In a large bowl, stir together all-purpose flour, whole wheat flour, baking soda, cinnamon, salt, baking powder, nutmeg, and cloves. Add flour mixture to pumpkin mixture; stir until smooth. Pour batter into prepared pan.
Bake in preheated oven for 65 to 70 minutes, until a toothpick inserted into center of the loaf comes out clean.