I have always loved to read. To me reading is relaxing. You can use your imagination unlike watching TV. Before my Kindle I used to go to Half Price Books and stock up on books. I would trade books with family and friends. I never kept books on a shelf unless it's a book I absolutely love like my Dewey book. Typically it would take me a few weeks to finish an average size novel, maybe 350 to 500 pages. Now I'm reading books at lightning speed! Well, maybe not that fast but you know what I mean.
Last Christmas my husband bought me my Kindle and it really has changed the way I read books. I read more often than I ever did before. Since Christmas last year I have read 6 books in 3 months. That's a record for me! The convenience of such a small device definitely adds to my Kindle reading addiction. I like to read before bed and holding a Kindle is so much easier and more comfortable than a paperback book with my Mighty Bright Book Light attached to it. I have the Kindle cover with light now and love it! The best
part about it is that the LED light runs off the Kindle battery. It does drain the battery a little faster but not by much…no more buying AAA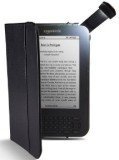 batteries for my Mighty Bright Book Light. Kindle goes green in more ways than one!
The best part about the Kindle is that it is user friendly and the books are competitively priced. The abundance of free books is impressive. I have just reached 100 books and I'd say that 90 of those are free! If you are on Facebook you should definitely become a "fan" of the Kindle Page and my new favorite Pixel of Ink.
I see one issue with my Kindle addiction…it is competing with my crafting addiction! I guess having choices is good! Happy Reading!